Gift Box Cakes with M&M'S®
Frosting "ribbons" wrap light and airy sponge cake bundled up in fondant. M&M'S® add a little levity to these old-fashioned petits fours.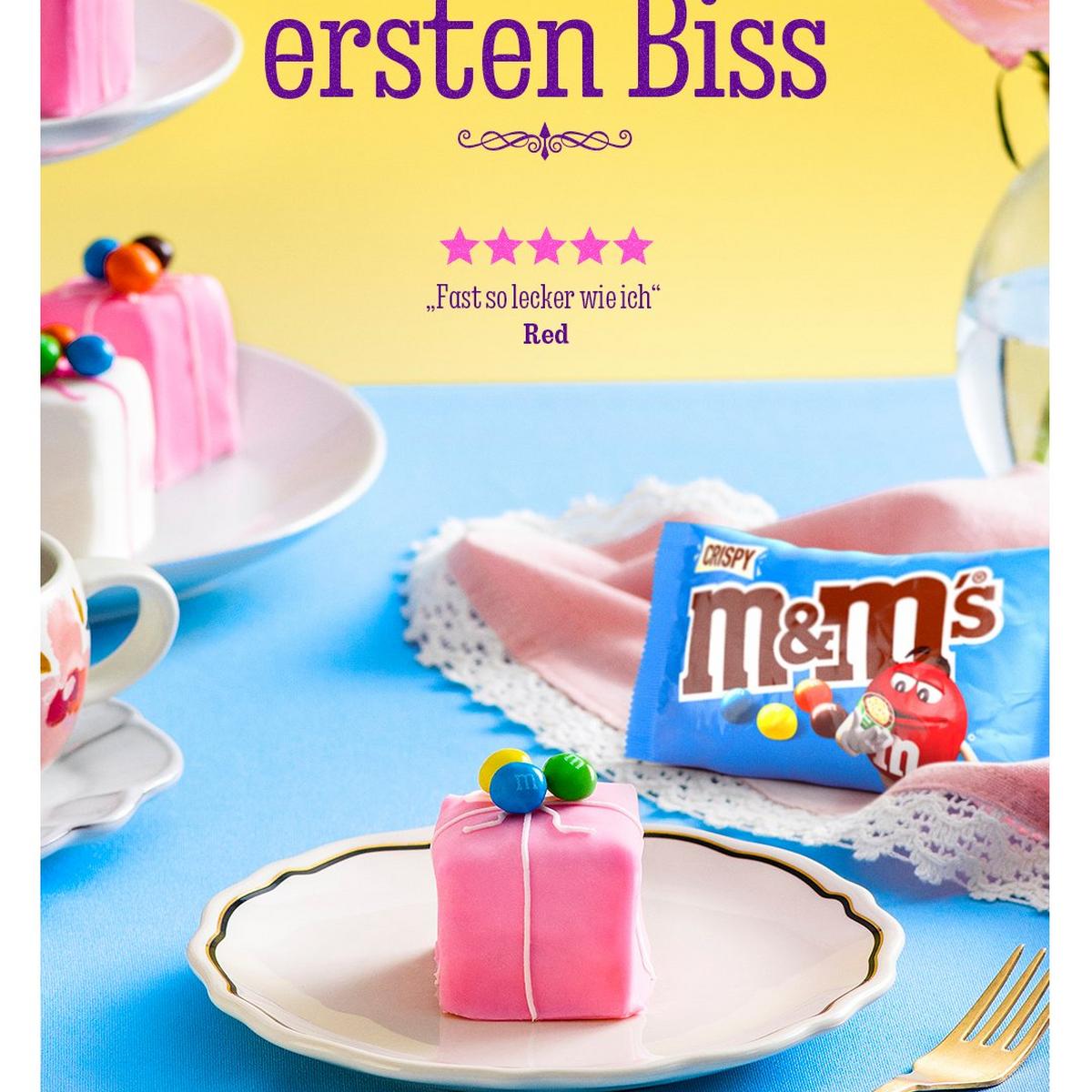 Ingredients
Cake:
64 g plain flour
2 g baking powder
1 g salt
4 g baking powder
3 eggs, at room temperature
100 g caster sugar
2 mL almond extract
30 mL reduced-sugar fruit spread
80 g M&M'S Crispy
500 g pink or white fondant
1 small tube icing, for decorating
Instructions :
Prep Time: 35 minutes
Cook Time: 15 minutes
Total Time: 50 minutes
Makes: 16 cakes
Cake: Preheat oven to 350°F/180°C/Gas Mark 4. Line bottom of 23-cm square baking pan with parchment paper (do not grease sides).
In medium bowl, whisk together flour, baking powder and salt.
In large bowl, using electric mixer on high speed, beat eggs until foamy. Gradually sprinkle in sugar, 13 g at a time, until mixture is light, fluffy and very pale yellow, and it has tripled in volume, about 5 to 10 minutes. Fold in flour mixture until incorporated. Fold in almond extract. Scrape batter into prepared pan; smooth top.
Bake for 12 to 15 minutes or until cake springs back when lightly touched and tester comes out clean when inserted into centre of cake. Let cool completely on wire rack
Invert cake onto wire rack; peel off parchment paper. Cut cake in half. Spread fruit spread on one half. Fold one half over the other, like closing a book. Trim short edges if needed. Cut into 16 squares (cut stacked cake in half, then half again, and cut each quarter into four). Open each cake stack and arrange 3 M&M'S® Crispy between each petit four.
Dust work surface with cornflour. Roll out fondant to 3-mm thickness. Cut out 14-cm square piece of fondant; use rolling pin to gently transfer fondant and place over cake. Stretch fondant so there are no creases on sides of cake (only on work surface). Trim excess fondant on work surface. Starting at corners and using fondant smoother or your fingers, smooth fondant edges, then smooth top and sides to remove wrinkles. Trim any excess fondant to create crisp edges. Repeat with remaining fondant and cake stacks, rerolling scraps as needed.
Use icing to pipe "ribbon" onto each petit four to resemble a gift box. Garnish each with 3 M&M'S® Crispy.
Tip:
Substitute fruit spread with your favorite jam, jelly, curd chocolate spread or nut butter.
| NUTRITION INFORMATION | |
| --- | --- |
| | Per 1 serving (1 gift box) |
| Energy | 865 kJ 207 kcal |
| Fat | 1.9g |
| Saturates | 0.9g |
| Carbohydrate | 45.4g |
| Sugars | 40.1g |
| Fibre | 0.2g |
| Protein | 1.8g |
| Salt | 0.2g |