The stockings were hung by the chimney with candy...is that how that goes? Put a unique spin on the classic tradition with our M&M'S Holiday Stocking! The perfect way to make your holiday festivities just a little more sweet.
Price reduced to
$9.95
from the original price of
$14.95
Reasons to buy text and image
Orders over $49.00 ship free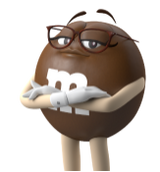 Ready to turn your holidays into holiyays? Kick your holiday season into high gear with your very own classic M&M'S Holiday Stocking!
Designed to infuse an extra burst of holiday joy into your living room all season long, this red stocking comes printed with a classic M&M'S "m" logo in the center - consider it a hint for whoever's filling it. Features iconic white detailing and trim.
This is a classic red holiday stocking w/ white detailing and trim with a deliciously M&M'S twist - a red "m" logo in the middle.
These M&M'S stockings are the perfect addition to your holiday decorations!
Check out all of our Holiday Clearance!
100% POLYESTER
Made in China.
Ideal for
Format & content
Stocking measures 14.5" x 9.5"
Care Instructions:
HAND WASH COLD WITH LIKE COLORS, DO NOT BLEACH, RESHAPE AND DRY FLAT, DO NOT IRON.