Kick your companion's style up a notch with a fun bandana that features the M&M'S characters. Tails will be wagging and heads held high when your pets show off their new look.
Reasons to buy text and image
Orders over $49.00 ship free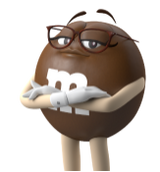 Your dogs and cats can show off some new, sweet style with this M&M'S Character Pet Bandana. Our navy bandana is printed with our signature characters. Who wouldn't want to spend the day with that colorful crew?
Two different sizes fit a wide range of furry friends. Consider decking your pets out in full style by pairing the bandana with a matching pet collar or leash.
Navy bandana printed with M&M'S characters
Two sizes available: small/medium and medium/large
Material: polyester
Made in China.
Care Instructions:
Wipe with a damp cloth
Ideal for
Format & content
We recommend sizing up if unsure.

Small/Medium: Fits Neck: 10-14 in, Weight Range: 6-10 lbs

Large/Extra Large: Fits Neck: 15-18 in, Weight Range: 20-29 lbs