Youth M&M'S Cozy Heart Sherpa Socks
Valentine's Day isn't just about romance. It's about celebrating all the people you love. And there's no bigger love in your life than your little ones! This year, give them a cozy gift they'll cherish - M&M'S Valentine's Day Sherpa Socks!
Price reduced to
$8.97
from the original price of
$14.95
color: 
Pink red polka dots
sku: 2000841760
Reasons to buy text and image
Orders over $49.00 ship free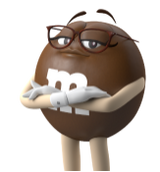 Looking for a gift your little Valentine's are sure to fall in love with? We've got just the thing! Actually, we've got just the thing in your choice of two designs they're sure to love.
This year, give the gift of love with a pair of M&M'S Valentine's Day Sherpa Socks! They're the perfectly cozy, perfectly toasty, perfectly lovely way to keep the love and warmth of the holiday with them all winter long.
These socks are part of our Valentines Day Family Sherpa Sock Collection.
Available in 2 sweet designs.
One design features dark pink polka dots against a light pink sock.
The other features white hearts on a red sock.
This is the perfect gift to make all your little ones Valentine's Day unforgettable!
Size
Socks fit youth sizes: 10-13.5
Socks measure: 9"(H) X 3.5"(W) X 1"(D)
Material
Shell: 66.4% Acrylic, 30.7% Polyester, 2.2% Nylon, 0.7% Spandex
Lining: 87.4% Polyester, 12.6% Nylon
Care Instructions

Machine wash cold, Non-chlorine bleach, Tumble dry low, Do not iron, Do not dry clean
Made in Taiwan.
Ideal for