M&M'S Fun Size Halloween Chocolate Candy Assortment, 9.9oz
Don't know which M&M'S Chocolate variety to choose? Get everyone's favorite this Halloween with the M&M'S Lovers Chocolate Halloween Candy Variety Mix. This mix contains individually wrapped fun size pouches of M&M'S Milk Chocolate, Roasted Peanut, and Peanut Butter Candies which make them a safe option this Halloween season.
sku: 2000895109
Reasons to buy text and image
Orders over $49.00 ship free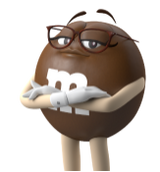 Stock your candy bowl with these chocolates and easily hand them out to trick-or-treaters on Halloween. They're also a great choice for sharing at Halloween parties and events. Whatever the occasion, you can't go wrong with a bag of M&M'S Lovers Fun Size Variety Mix.

Milk Chocolate, Roasted Peanut & Creamy Peanut Butter Assorted Flavors
Fill up your Halloween candy bowl with fun size chocolate candies for handing out to trick-or-treaters on Halloween
Bite-sized chocolates are perfect for Fall baking and as dessert toppings for spooky treats
This pack includes 16 individually wrapped packs of trick or treat candy are perfect to pass out on Halloween
Ideal for
Format & content
Contains one (1) 9.9-ounce bag of individually wrapped M&M'S Milk Chocolate, Peanut, and Peanut Butter Fun size pouches