M&M'S Lover's Fun Size Milk Chocolate Halloween Candy Assortment, 50 ct Bulk Candy Bag
Finding yourself knee-deep in cobb webs, fake blood, and skeletons? Put down the Halloween décor and take a break to enjoy M&M'S Lovers Bulk Halloween Chocolate Candy Assortment. There is a lot to prepare for in order to be the best house on the block during Halloween. Let this chocolate candy variety pack of M&M'S Halloween candy be number one on your spooky to-do list.
sku: 2000895110
Reasons to buy text and image
Orders over $49.00 ship free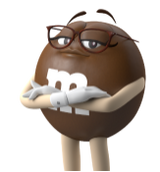 This bulk chocolate candy bag includes 50 pieces of individually wrapped M&M'S Milk Chocolate Candy, M&M'S Peanut Milk Chocolate Candy, M&M'S Peanut Butter Milk Chocolate Candy & M&M'S Fudge Brownie Milk Chocolate candy packs. As you prepare for your Halloween party, making spooky DIY decorations, baking, and decorating desserts, remember to take moment and reward yourself with these bite size chocolates. If your favorite Halloween movie marathon is coming up, pop the popcorn and fill the candy bowl with M&M'S chocolate candy for a spooky movie night. From decorating ghoulish desserts to indulging in a sweet chocolate reward, M&M'S Assorted Halloween Candy is the easy solution to keeping everyone happy and enjoying Halloween! Halloween It Like You Mean It and add this Bulk Candy bag of M&M'S Chocolate Candy Assortment to your cart.

This Halloween bulk chocolate candy variety pack features individually wrapped assorted M&M'S Milk Chocolate Candy, M&M'S Peanut Milk Chocolate Candy, M&M'S Peanut Butter Milk Chocolate Candy & M&M'S Fudge Brownie Milk Chocolate Candy
Enjoy your favorite scary Halloween movie marathon with a bowl of popcorn and a candy bowl of assorted M&M'S fun size chocolate candy mix
Trick or Treat! Scare and share this Halloween chocolate bulk candy variety pack fit for any sweet tooth or sweet fangs
Halloween It Like You Mean It at your Halloween party by filling a candy dish with eerie bite size assorted milk chocolates or decorating ghoulish baked treats for the dessert table
Ideal for
Format & content
Contains one (1) 27.52-ounce bag of M&M'S Milk Chocolate, M&M'S Peanut, M&M'S Peanut Butter & M&M'S Fudge Brownie Fun Size Milk Chocolate Halloween Candy