harvest pumpkin cheesecake cups
Light and dreamy, these M&M'S Halloween parfaits are the perfect dessert for sharing with family and friends.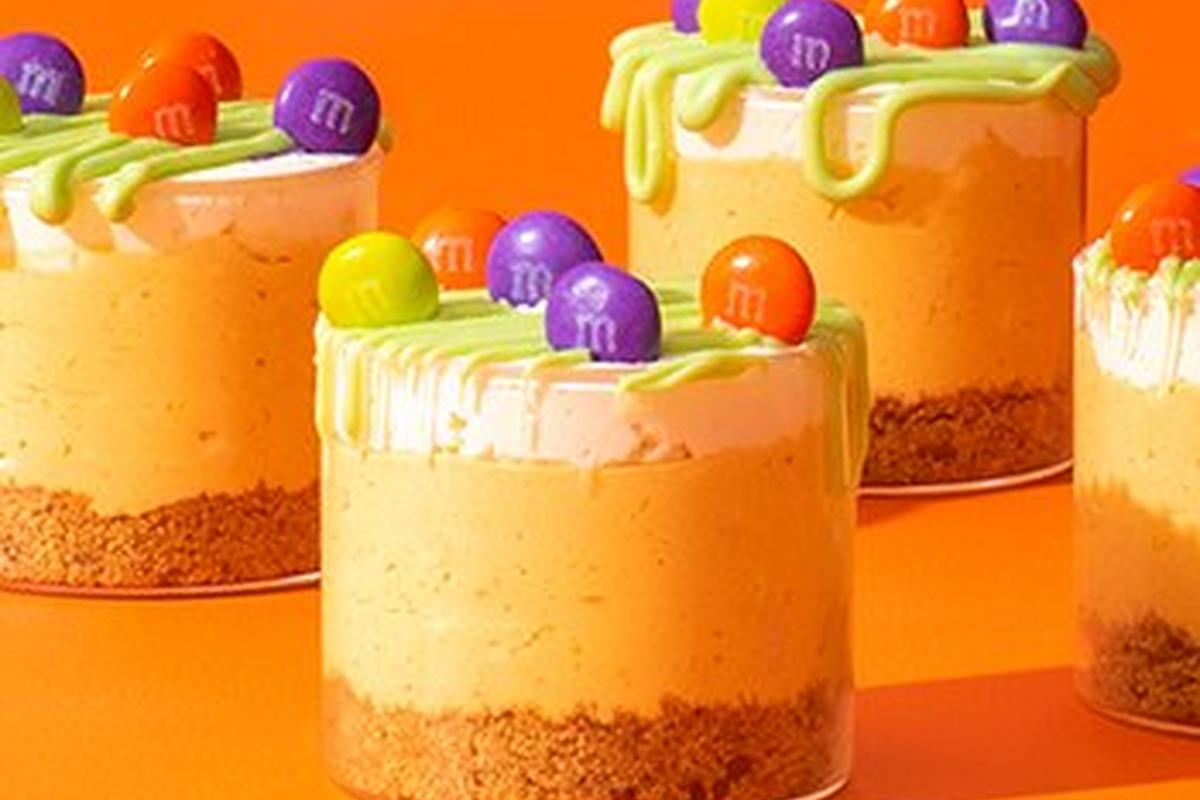 Recipe Ingredients:
3/4 cup graham wafer crumbs
1/4 cup finely chopped pecans
2 tbsp butter, melted
2 cups whipped topping
6 oz light cream cheese, softened and divided
2 tbsp icing sugar
1 tsp vanilla extract
1/2 cup canned pumpkin purée
1 tbsp pure maple syrup
1/2 tsp pumpkin pie spice
Orange gel food coloring
1 cup M&M'S® Milk Chocolate Candies, divided
2 oz green candy melts, melted
2 tbsp Halloween sprinkles
2 tbsp candy eyeballs
Directions:
Prep Time: 35 minutes
Cook Time: 0 minutes
Total Time: 35 minutes
In medium bowl, toss together graham wafer crumbs, pecans and butter. Divide among 12 mini glasses.
In another medium bowl, using handheld electric mixer, beat together whipped topping, cream cheese, icing sugar and vanilla until blended and smooth.
Transfer half whipped topping mixture to another medium bowl. Add pumpkin, maple syrup and pumpkin pie spice. Beat until smooth. Blend in orange gel food coloring to desired hue. Fold in 1/2 cup M&M'S® Milk Chocolate Candies.
Divide pumpkin spice cheesecake mousse evenly among glasses. Top with remaining vanilla cheesecake mousse.

Drizzle top with green candy melts. Garnish with remaining M&M'S®, Halloween sprinkles and candy eyeballs.



Tips:

Substitute graham wafer crumbs with chocolate cookie crumbs if preferred.
If desired, decorate parfaits with mini Halloween cookie cut-outs, such as pumpkin, bats, ghosts, witches or black cats.