This humorous, reusable tote bag features six of our popular M&M'S characters – Yellow, Red, and Green on one side and Blue, Orange, and Ms. Brown on the other. It makes an ideal carryall for gifts, snacks, and light grocery shopping.
Reasons to buy text and image
Orders over $49.00 ship free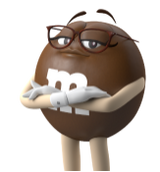 How are you going to carry around all that delicious M&M'S candy or whatever cool stuff you just bought? We suggest this fun tote bag with our popular M&M'S characters on the front and back. Laminated with a reinforced insert bottom for durability, this versatile tote is as fun as it is useful.
Reduce, reuse, and recycle with this fun, practical tote bag
Feature six popular M&M'S characters and classic M&M'S "M" logo
Laminated for extra durability and water resistant
Ideal for carrying groceries, small items, snacks, and gifts
Looking for more options? Shop our full assortment of M&M'S Accessories!
Made in China.
Ideal for