Whether it's a quick walk or a day at the park with your furry friend, make it more colorful with M&M'S Tie-Dye Pet Leash. Pair this leash with our matching pet collar and tie-dye bandana; people and pets will paws to admire your style.
Reasons to buy text and image
Orders over $49.00 ship free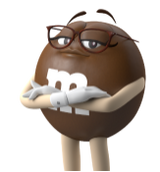 You may notice a little extra groove in your pet's step when you use this M&M'S Tie-Dye Pet Leash. A background of rainbow tie-dye is sprinkled with printed M&M'S chocolate candies. Add some colorful fun to your outdoor time together.
This groovy leash is as stylish as it is practical. A comfortable loop at one end helps you hold on easily while a snap bolt clips to the collar at the other end keeping you and your pet securely connected. Three different leash sizes allow you to find the right fit for your furry friend.
Tie-dye background design with printed M&M'S chocolate candies
Comfortable loop handle with black metal snap bolt
Available in small, medium and large sizes
Materials: polyester, metal, and plastic
Made in China.
Care Instructions:
Wipe with a damp cloth
Ideal for
Format & content
We recommend sizing up if unsure.

Small: 6' x 3/4" wide, Weight Range: 6-10 lbs

Medium: 6' x 5/8" wide, Weight Range: 10-22 lbs

Large: 6' x 1" wide, Weight Range: 20-29 lbs