Campfire Smores M&M'S, 7.44oz
Campfires... scary stories... all that's missing are s'mores! Introducing New M&M'S Campfire Smores Chocolate Halloween Candy. These delectable M&M'S will ignite your taste buds!
Reasons to buy text and image
Orders over $49.00 ship free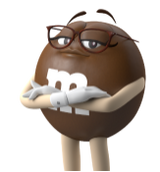 Each bite is a blazing delight with a milk chocolate center surrounded by a toasted marshmallow and vanilla-flavored white chocolate layer, covered in white, black, and orange colored candy shells. With a delightful twist on the classic campfire treat, each bite will transport you to a cozy campsite under a starry autumn sky. From visiting the pumpkin patch to tailgating at a football game to a Halloween movie marathon, M&M'S Halloween candy is perfect for all fall occasions. Orange, white, and black candy-colored shells of M&M'S Campfire Smores make for a perfect Halloween treat in a candy dish and to top your ghoulish decorated desserts.

Whether you're visiting a pumpkin patch or going tailgating before the big game, M&M'S Campfire Smores Halloween candy is great to take on the go for any fall occasion
Elevate your Halloween movie night with friends by mixing your popcorn with the delightful crunch and campfire-inspired flavor of M&M'S Campfire chocolates for the ultimate cozy experience
Whether you're filling up your Halloween candy dish or jazzing up your ghoulish desserts, these chocolates are the ultimate must-have for capturing the spooky spirit of the Halloween season
Ideal for
Format & content
Contains one (1) 7.44-ounce bag of M&M'S Campfire Smores White and Milk Chocolate Halloween Candy