M&M'S® Lovers Variety Box
"Variety is the spice of life that gives it all its flavor." That holds so true when it comes to our M&M'S® Lovers Variety Box, filled with 12 samples of our 9 core M&M'S® chocolate candies flavors. You want options? Well, the choice is clear. This box is the best of all funkind!
Reasons to buy text and image
Orders over $49.00 ship free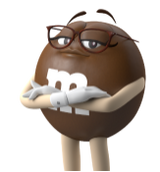 Have a favorite M&M'S® chocolate candies flavor? Now's the time to test your tastebuds! This box contains 9 of the core flavors in 12 tasting sizes: Almond, Crunchy Cookie, Dark Chocolate Peanut, Peanut, Caramel, Fudge Brownie, Peanut Butter, Pretzel, and Milk Chocolate. So much flavor, and so much fun in one taster box.
Ideal for
Format & content
4.5''W x 4.5''H x 3"D
Each box contains 27 oz  (1lb 11oz), 765.4g of  M&M'S chocolate candies.