M&M'S Full Size Milk Chocolate Candy Assortment, 30.58 oz, 18 ct
Can't choose between Peanut M&M'S Candy, M&M'S Milk Chocolate Candy and Peanut Butter M&M'S Candy? Get everyone's favorites with this M&M'S Chocolate Variety Pack. Perfect for gift baskets, movie theater candy, party treats or sharing with friends and coworkers.
sku: 2000843121
Reasons to buy text and image
Orders over $49.00 ship free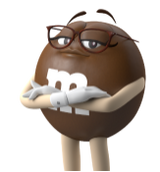 M&M'S Chocolate Candy Assortment are also a great way to add colorful fun to your favorite desserts. Make everyday celebrations more delicious with M&M'S Variety Packs. Don't forget to add M&M'S Candy in your next celebration including your Trick-or-Treat bags, Easter baskets, or Christmas stocking stuffers. Order this 18 count of Individually Wrapped M&M'S Peanut, Peanut Butter & Milk Chocolate Variety Pack Full Size Milk Chocolate Candy Assortment Bulk online today!

M&M'S Full Sized Chocolate Candies have a milk chocolate center surrounded by a colorful candy shell featuring peanuts and peanut butter assorted flavor varieties
Take M&M'S Chocolates Singles Packs on-the-go, to the movie theater, add to candy gift baskets, or include for a game day candy buffet
This Bulk M&M'S Assorted Chocolate Candy Variety Pack features M&M'S Milk Chocolate, Chocolate Peanut and Peanut Butter Chocolate Candy are great to mix up your baking recipes
Fill lots of Trick-or-Treat bags, Easter baskets, or Christmas stocking stuffers with this bulk chocolate candy assortment
Ideal for
Format & content
Contains one (1) 30.58-ounce Individually Wrapped M&M'S Chocolate Full-Sized Bulk Variety Pack, including (8) Peanut M&M'S Candy, (6) M&M'S Milk Chocolate Candy and (4) Peanut Butter M&M'S Candy