peanutty halloween pinwheel cookies
Vanilla cookie dough is colored, rolled, chilled and baked to form eye-catching Halloween pinwheels.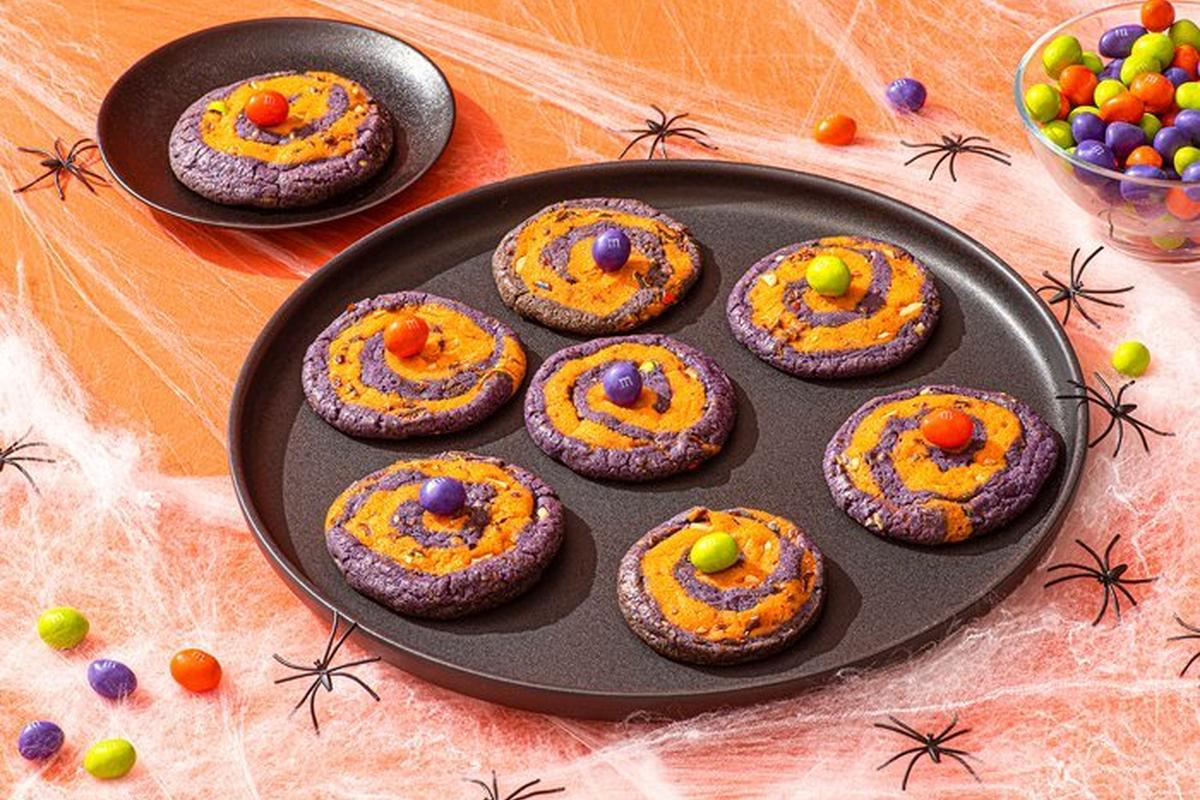 duration
2 hours 5 minutes
Recipe Ingredients:
1 1/4 cups all-purpose flour
1/4 tsp baking powder
1/4 tsp salt
1/2 cup granulated sugar
1/3 cup unsalted butter, softened
1 egg
1 tsp vanilla extract
1/4 tsp orange food coloring gel
1/4 tsp purple, green or black food coloring gel
3/4 cup M&M'S® Ghouls Mix Peanut, divided
Directions:
Prep Time: 25 minutes
Cook Time: 10 minutes
Total Time: 35 minutes (+ 1 hour 30 minutes standing time)
In medium bowl, whisk together flour, baking powder and salt.
In large bowl, using wooden spoon, beat together sugar and butter until light and fluffy. Beat in egg and vanilla until combined. Stir in flour mixture just until incorporated.
Divide dough evenly between 2 bowls. Tint one dough portion with orange food coloring gel, and tint remaining dough portion with purple food coloring gel (or preferred color).
Reserve 12 whole M&M'S® Ghouls Mix Peanut candies and set aside. Finely chop remaining M&M'S®.
Divide and knead remaining chopped M&M'S® into each dough. Shape each dough into a disk. Wrap in plastic wrap and refrigerate for 1 hour.
Unwrap orange dough and arrange on work surface lightly dusted with flour. Roll into 8 x 6-inch rectangle. Repeat process with purple dough.
Lift purple dough and place on top of orange dough. Lightly roll so doughs adhere together. Trim edges as needed. Starting from the long end, roll dough into a log. Wrap log in plastic wrap and refrigerate for 30 to 40 minutes or until dough is well chilled and firm.
Preheat oven to 350°F.
Unwrap dough log, trim ends and cut into 12 slices. Arrange slices on parchment paper–lined baking sheet, spacing about 2 inches apart.

Bake for 10 to 12 minutes or until bottoms are lightly golden and tops are set. While cookies are still soft, gently press one reserved M&M'S® Ghouls Mix Peanut candy into each cookie. Let cool on baking sheet for 5 minutes and transfer to wire rack to cool completely.



Tip: Bake the trimmed ends and reserve as a cook's treat.