rainbow trifle
These eye-catching trifles are easy to prepare and make a fun summer dessert.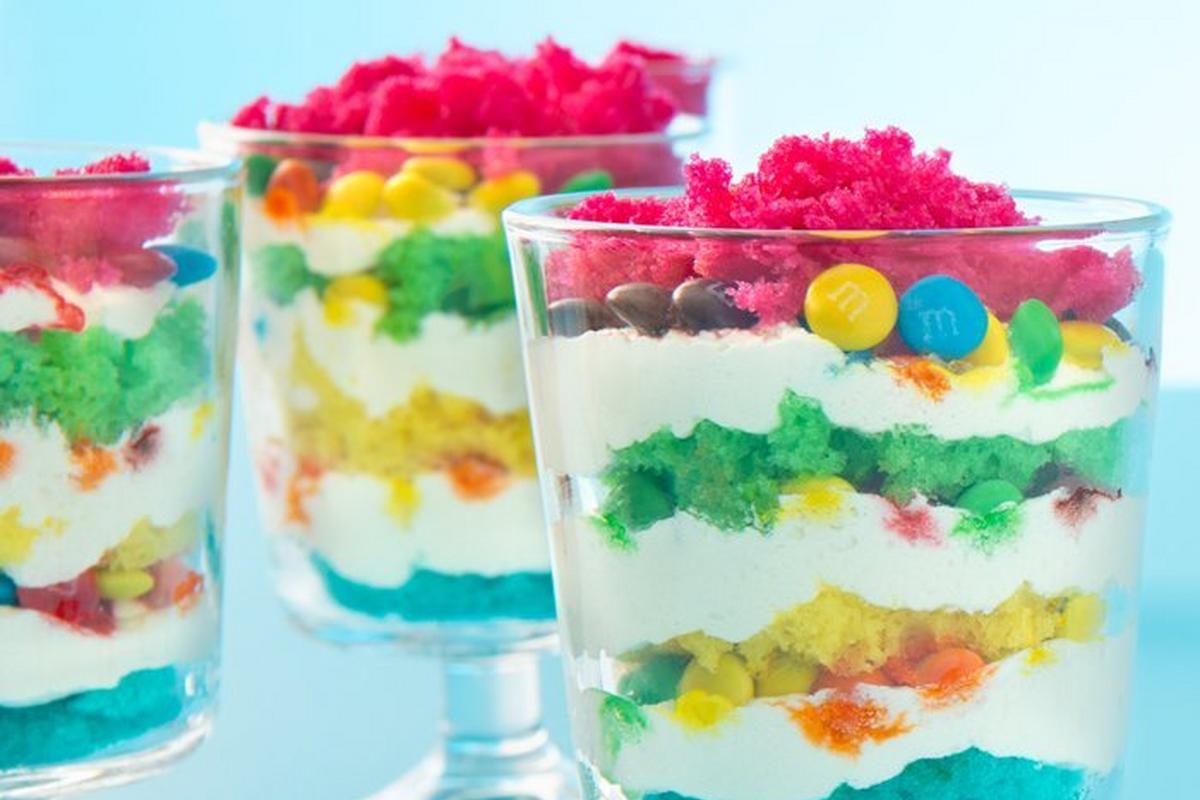 Recipe Ingredients:
1/2 pkg (7.6 oz) white cake mix
8 to 10 drops blue food coloring
8 to 10 drops green food coloring
8 to 10 drops yellow food coloring
8 to 10 drops red food coloring
1/2 cup 35% heavy cream
2 cups prepared vanilla pudding
1/2 bag (5 oz) M&M'S Minis, divided
Directions:
Prep Time: 10 minutes
Cook Time: 20 minutes
Total Time: 30 minutes
Preheat oven to 350˚F. Line 12 standard muffin cups with paper liners; set aside. Prepare cake mix according to package directions.
Divide batter evenly among 4 bowls. Stir blue, green, yellow and red food coloring into individual bowls. Divide each colored batter among three muffin cups, filling about two-thirds full. Reserve remaining cake batter for another use.
Bake for 15 to 18 minutes or until tester inserted into center of cakes comes out clean. Let cool completely on rack. Crumble cupcakes, keeping each color separate.
Using electric mixer, whip cream until stiff peaks start to form. Fold into pudding.
Layer 4 tsp blue crumbled cake into bottom of 12 mini trifle dishes; top with 1 tbsp pudding mixture and 1 tsp M&M'S. Repeat layers with remaining colors of crumbled cake, pudding mixture and M&M'S for a colorful rainbow trifle.
Tip: Dollop spoonfuls of each color of remaining cake batter into parchment paper–lined loaf pan, 8-inch round or square cake pan; swirl layers together with skewer for a marbled effect. Bake according to package directions; let cool completely. Slice and serve with scoop of ice cream. Garnish with M&M'S Minis.