easter flower tartlets
These pretty flower mini chocolate tarts are easily painted pink for an eye-catching Easter treat. Simple yet sophisticated!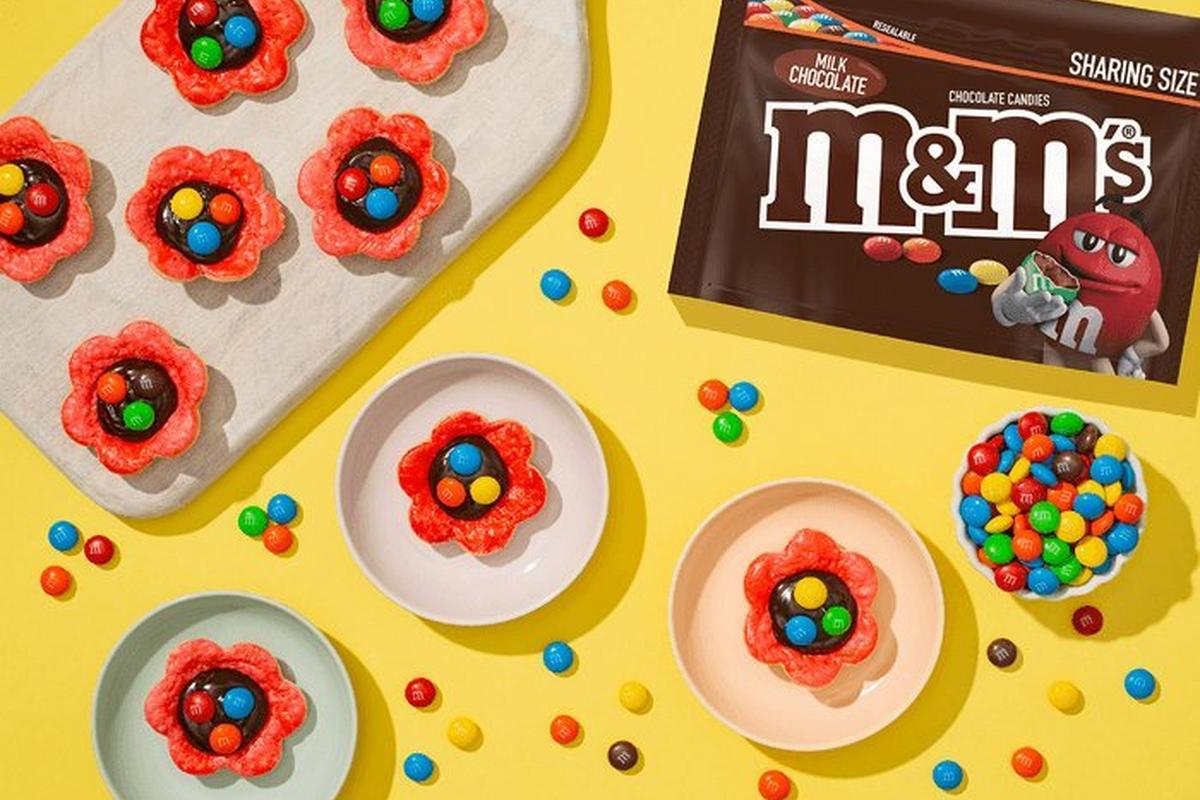 duration
1 hour 20 minutes
Recipe Ingredients:
1 egg yolk
1 tsp pink food coloring gel (approx.)
1 rolled refrigerator pie crust
1/3 cup dark chocolate chips
2 tbsp heavy or whipping (35%) cream
Pinch salt
3/4 cup M&M'S® Milk Chocolate, divided
Directions:
Prep Time: 20 minutes
Cook Time: 15 minutes
Total Time: 35 minutes (+ 45 minutes standing time)
Preheat oven to 400°F.
In small bowl, whisk together egg yolk with pink food coloring until combined. Whisk in 2 tsp water until mixture resembles a paint consistency; adjust with up to 1/4 tsp more water if needed.
Unroll pie crust onto lightly floured work surface. Using 3-inch daisy flower–shaped cookie cutter, cut out 8 flowers, reserving scraps to reroll later. Carefully fit and press into 8 cups of 2 (ungreased) mini muffin pans, staggering them so that every other cup is empty (to avoid overlapping petals). Gently fold petals flat around tops of cups. Reroll remaining crust on lightly floured work surface and cut out 4 more flowers, fitting and pressing them into cups. Chill in freezer for 10 minutes.
Using fork, prick bottoms and sides of pastry (excluding petals). Using food-safe paintbrush, paint pink egg wash all over pastry.
Bake for 8 to 10 minutes or until pastry is crisp and set. Let cool in pans for 10 minutes on wire rack. Remove tarts from pans and let cool completely on wire rack.
In small heatproof bowl fitted over small saucepan of barely simmering water, stir together chocolate chips, cream and salt until melted and smooth. (Alternatively, melt in microwave-safe bowl in microwave on MEDIUM heat, stirring every 30 seconds, for 2 to 3 minutes.) Let cool slightly, until pourable but not runny. Transfer to pastry bag fitted with small round tip.
Divide 1/2 cup M&M'S® Milk Chocolate among tartlets. Pipe chocolate mixture over M&M'S® to cover. Garnish tops with remaining M&M'S®. Let stand for 20 to 30 minutes or until chocolate is hardened and set.
Tips:
Substitute chocolate chips in ganache with white chocolate chips, colored candy melts or ruby chocolate for differently colored centers.
Jazz up flower tartlets by also decorating with tubes of store-bought icing.