These mugs are overflowing with personality. Choose which color is the best fit for you or your lucky gift recipient. One M&M'S character and a typical saying are featured on the front of each mug. Makes a fun gift for friends, teachers, or any M&M'S fan.
sku: 2000895051
Reasons to buy text and image
Orders over $49.00 ship free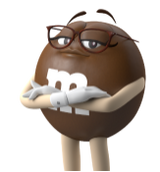 Add some fun to your desk, stand out at the workplace coffee counter, brighten your dorm room, or bring a smile to the teacher's lounge. You could also make it a set by collecting all six mugs - you'll have a different mug for every mood! The bright, solid-color mugs feature the M&M'S characters on the front with a large saying for each one that shows off their unique personalities.


6 different colors: Brown, Blue, Yellow, Red, Orange, Green
Brown: Not bossy just the boss
Blue: I woke up like this
Yellow: Definitely a bag half full kind of person
Red: Don't bother holding your applause
Orange: I'm afraid of what might happen if I relax
Green: I'm not here to impress you but I probably will anyway
Each mug holds 18 oz of coffee, tea, hot chocolate, or any favorite beverage
Ideal for
Format & content
4.3" W x 4.75" H x 5.5" D