Youth M&M'S Character Slippers
Who says you have to choose between cozy and fun? Grab a pair of M&M'S Characters Youth-sized slippers and watch the fun come alive with every step! Choose your favorite character and get ready to kick back and let the lounging begin.
Reasons to buy text and image
Orders over $49.00 ship free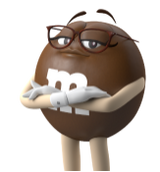 What melts in your mouth, not in your hands, and keeps your feet cozy and fun? If you answered "M&M'S Character Slippers", you got it! Kick back and enjoy the fun with these slippers designed to help you keep your favorite characters always in sight!

Choose your character from Blue, Red or Ms. Green. Slip them on and have a friend with you every step of the way!


Slippers come in two sizes: Youth Small/Medium and Youth Large/Extra Large.
Slippers are printed with M&M'S characters on top and PVC dots on the bottom.
Perfect for lazy days, cozy nights, and everything in between!
Check out our Youth Apparel assortment for fun apparel & gifts!
Care Instructions:
Spot clean only
Made in China.
Ideal for